2023 Nissan Ariya vs. Hyundai IONIQ 5
Maus Nissan of Crystal River offers a comparison of the 2022 Nissan Ariya and the Hyundai IONIQ 5.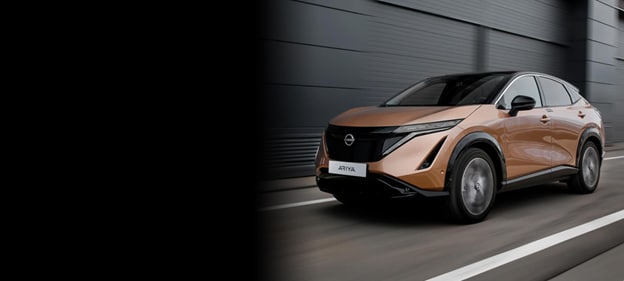 2023 Nissan Ariya vs. Hyundai IONIQ 5
Some people got a head start on the EV market, but they relied on their name to carry them the rest of the way. With the new era of all-electric vehicles just down the road, some companies took the initiative to create something that pushes the boundaries. In contrast, their competitors stayed comfortable with the familiar. The experts at Maus Nissan of Crystal River are here to show you how Nissan took the next step in EV technology with its new Ariya and how it compares to the popular IONIQ 5.
2023 Nissan Ariya vs Hyundai IONIQ 5
While the IONIQ 5 made a name for itself as one of the first distinguished all-electric vehicles, it didn't need to do much to impress those who are just learning about EVs, and the brand let that familiarity with the brand handle the rest. Nissan, however, took extra care into creating an EV that offers so much more in order to give people the best all-electric experience possible. Even though Nissan already had the Leaf for a good few years, they continue to innovate with an all-new electric vehicle to represent the next stage in the evolution of EV vehicles as we know it, also known as the Ariya.
Performance
What makes the Ariya different from any other EV? For starters, it comes with the brand-new e-4ORCE AWD platform which is a first for any Nissan SUV. Built with a dual-motor setup, the e-4ORCE is Nissan's answer to HTRAC. Hyundai designed their patented HTRAC all-wheel drive system a while ago, and the engineers had called it done ever since even though there's always room for improvement. Nissan's new platform was specifically crafted for EVs in order to give the best possible driving experience in an all-electric vehicle. Independent wheel torque and enhanced grip allow for a silky-smooth on-road feel that's satisfying to the touch. With the amount of power behind it with its driving technologies and double the electric motors, the Ariya can produce 389 horsepower which is unheard of in an EV. Plus, it can go up to 300 miles on a full charge.
The IONIQ 5 is only capable of reaching 320 horsepower which doesn't make it as ideal for off-roading as the Ariya. And even though Hyundai's HTRAC has been around for a bit, the e-4ORCE is proving to be a worthy adversary.
Safety Features
Everyone is hopping on board the driver-assist train to the point where these features are becoming more standard with each new model. Now, it's just a matter of who does it better. ProPILOT Assist by Nissan is a driver-favorite system keeping people safe since its debut in 2018. But of course, Nissan engineers continue to look past the "now" and find ways to improve the future, and the result is ProPILOT 2.0. What's different about this version? Drivers will now be able to experience hands-free driving in single lanes. In addition to the improved ProPILOT system, the 2023 Ariya is also equipped with an Intelligent Around View Monitor, Intelligent Rear-View Monitor, Intelligent Forward Collision Warning, Rear Automatic Braking, Automatic Emergency Braking with Pedestrian Detection, and Intelligent Blind Spot Intervention all while being able to automatically adjust your speed at off-ramps or when an obstacle lies ahead. A clear head-up display keeps you informed of ProPILOT data and other important details. Nissan really wants Ariya drivers to feel completely safe and comfortable in this new age of electric driving.
Meanwhile, Hyundai continues to give its flagship EV the same treatment that is given to any other vehicle in its lineup. This includes Highway Driving Assist II which comes with all of your usual basic safety features.
Interior
The 2023 Ariya's interior definitely looks like a product of the future with its sleek look and uncommon yet useful design choices. While many vehicles lean too hard into unfamiliar territory leading to interior designs that no one wants to begin deciphering, Nissan found a great balance between keeping things simple and adding a unique twist to certain features. A panoramic moonroof, leather-appointed (and heated) seats, and a Bose speaker system are all lovely components that everyone already wants in a vehicle. But the addition of a buttonless temperature control integrated into the dash, Zero Gravity seats, a sliding center console, and a long dual-screen setup are all wonderful additions that add a touch of uniqueness without being too overwhelming.
The IONIQ 5 claims to exhibit a clean and futuristic look, but a quick glance at the interior will tell you otherwise. While Hyundai tried to make an effort to give a fresh atmosphere, it also looks as though they were hesitant to stray from the traditional format. Everything about the dash looks like any ordinary gas-powered car. In fact, if you were to see a photo of the dash without being informed of the vehicle model, you would most likely think that the image is of a non-EV car from a few years ago. All of the components are sectioned off instead of giving an open feel, and the frame surrounding the information screens is much too thick.
Bottom Line
For a truly futuristic-looking electric car that can handle every drive that a gas-powered off-roading vehicle can, then you're better off with the 2023 Ariya. Intuitive technology and a fresh cabin put this upcoming Nissan at the top of our list!
Ask About the 2023 Nissan Ariya!
Want to know how you can get your hands on a 2023 Ariya? Give Maus Nissan of Crystal River a call any time at (352) 592-6287 for more information!
Hours
Monday

8:30AM-8:00PM

Tuesday

8:30AM-8:00PM

Wednesday

8:30AM-8:00PM

Thursday

8:30AM-8:00PM

Friday

8:30AM-8:00PM

Saturday

8:30AM-8:00PM

Sunday

11:00AM-4:00PM
Make an Inquiry