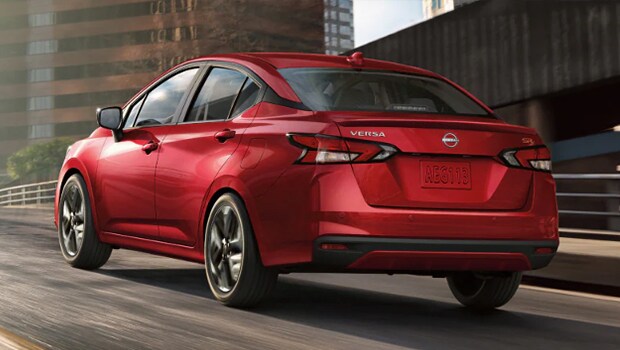 Not everyone wants to spend hours sorting through all kinds of different options for their next vehicle. To some, a car is something that takes you from Point A to Point B and nothing more and that's a-okay! If you're looking for a no-nonsense car at a low cost, Maus Nissan of Crystal River is thrilled to show you what you'll like about the 2023 Nissan Versa.
The 2023 Nissan Versa Is Incredibly Affordable
The Versa is the perfect budget-friendly car as the average price sits at around $20k or lower. This makes it one of the most affordable new car models currently available which is great news for those who simply want a vehicle that they can drive. In fact, the base Versa S trim is said to start as low as $16,825 for the 5-speed manual transmission and $18,495 for the automatic CVT. Even if you want to go with one of the more advanced trims for the extra features, that still keeps the Versa at around twenty thousand.
| | |
| --- | --- |
| 2023 Nissan Versa Trim | Estimated Starting Price |
| Versa S (manual) | $16,825 |
| Versa S (automatic) | $18,495 |
| Versa SV | $20,115 |
| Versa SR | $20,815 |
It Comes with a Respectable Engine
If you want a car with decent power for the price, the 2023 Versa is one of the best deals you'll find. It comes with a 1.6L DOHC engine capable of 122 horsepower with 114 lb.-ft. of torque. This engine will supply you with enough power to help you with your daily commutes and the occasional shopping or errand trip which is what most people look for as not everyone is the outdoorsy, adventuring type. But even though the Versa isn't ideal for off-roading, you'll still experience a shockingly smooth ride despite it only coming in a forward-wheel drive. This is just a prime example of how Nissan likes to surprise us with wonderful hidden gems.
Intriguing Exterior and Interior Design
Nissan found the perfect balance between offering affordability and showing off a snazzy look with the Versa. This is something that many brands fail to pull off, but Nissan effortlessly knocked it out of the park. The exterior has an attractive sporty aesthetic, especially in the grille area with its sharp and sleek shape and design. At first glance, the best we can describe the new 2023 Versa is that it's small yet very distinct.
When you make your way inside the 2023 Versa, you'll be pleased with the very modern atmosphere. You'll find a standard 7-inch touchscreen which is already plenty for your basics, or you'll see a larger 8-inch screen in the more advanced trims. Other notable upgrades in the higher trims include a very handy adaptive cruise control feature along with Wi-Fi hotspot capability.
Visit Maus Nissan of Crystal River Today!
The release of the 2023 Nissan Versa is just around the corner, but if you need something sooner, Maus Nissan of Crystal River has 2022 models ready to go at a low starting price! Stop by anytime or give us a call at (352) 592-6287 for more information.