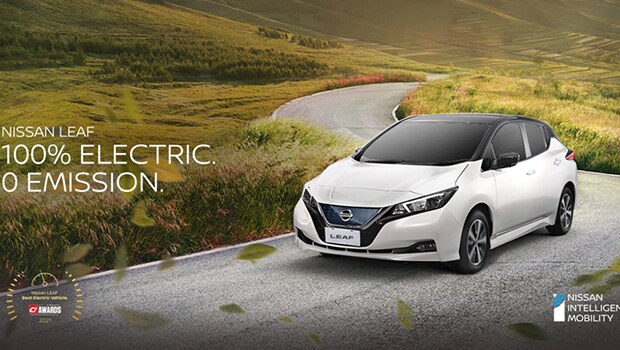 ?

It's autumn and the 2023 LEAFs are falling! Nissan just dropped the updated 2023 Nissan LEAF and Maus Nissan of Crystal River has all the details that you want. If you would like to reduce your carbon footprint but make it cute, keep reading to see what comes standard on the LEAF.
Starting around $27,800, the LEAF's S base model is stacked with standard features. After dropping three trims from the previous generation, Nissan added a sleek and modern look to the LEAF. The exterior's futuristic vibe comes standard with LED headlights and 17" aluminum wheels. A sleek front grille completes the modern look, even adding an indicator light when charging is in effect.
The LEAF S comes with a 147-kW electric motor and a 40 kWh lithium-ion battery. Drivers can expect this silent beast to produce 147hp and 236 lb.-ft of torque. As the base model, the LEAF S has a range of up to 149 miles on a full charge. Nissan also cleverly designed the batteries to sit underneath the center of the vehicle so turning stays tight. Each battery pack comes with an 8-year warranty or 100,000 miles for both defects and excessive capacity loss.
Inside the roomy cabin, standard features include an 8" digital touchscreen infotainment system that includes Android Auto and Apple CarPlay connectivity, a four-speaker sound system, a unique shifter knob, and a rearview monitor. Safety is always standard so expect Nissan to deliver the full suite of driver assistance technologies with Safety Shield 360. Rear automatic braking, blind-spot monitoring, and more are all included in the LEAF.
As a bonus, the LEAF is also eligible for the $7,500 federal EV tax credit but rumor has it, only for the first 200,000 models sold. If you're ready to learn more, visit the team at Maus Nissan of Crystal River. Schedule your visit here or call us at (352) 592-6287 today!