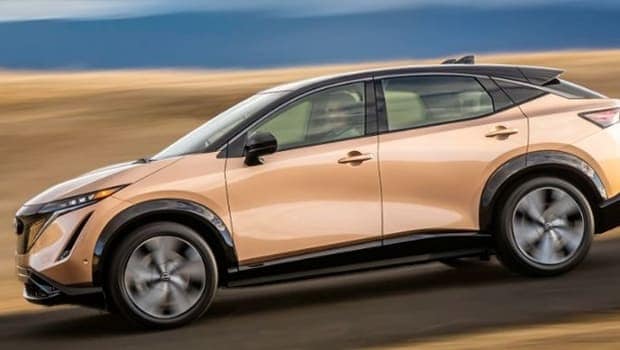 Nissan's next push in the EV market is a big one, with the brand-new ARIYA already making waves in headlines all over the internet. But what's so great about this all-electric SUV that makes it better than all of the others in its class? Maus Nissan of Crystal River is excited to show you around this incredible vehicle that we just can't stop raving about!
Precision Driving for Ultimate Control
One of the most impressive things about the new ARIYA, and one of the reasons why it's considered one of the safer EVs out there, is the level of precision it gives you during every drive. The exclusive e-4ORCE system supports dual motors that are designed to power each wheel individually for enhanced precision on curved or uneven roads to help keep you on track. Activating Sport mode provides you with even greater precision for turning through corners, and the low center of gravity with 50/50 weight distribution only adds to the overall amount of control at your fingertips. No matter where you are or what the road conditions are like, the ARIYA actively works to keep you in full command of your drive.
Stay In the Know Regarding Your Safety
The Nissan ARIYA is equipped to keep tabs on your safety at every possible moment. All important information is displayed directly on the windshield so you can keep your eyes on the road while staying in touch. And any time you need to change lanes or pass a vehicle ahead of you, you can count on the ARIYA to guide your movements so you can perform every action with confidence. There's a reason why people are saying that the ARIYA has the most advanced driver-assist technology by Nissan, and it doesn't end there.
Intuitive Hands-Free Assistance
The future of driving is hands-free, and Nissan is taking the next step with their patented ProPILOT Assist 2.0 technology which supports hands-off driving when you need it. The ARIYA has been tested for your safety, so you can trust in the capable hands of the engineers and designers at Nissan. Additionally, you can control various aspects of the EV with "Hello Nissan" voice commands that let you access features relating to:
Navigation. Set up directions or look for nearby locations.
Audio. Select your media and control the volume.
Air conditioning. Adjust the cabin's temperature.
Phone. Make calls or listen to text messages.
The easier it is to access and use your car's features, the less distracted you are during your drive. With this incredible technology, you can finally always focus on what's ahead of you no matter what. It's no wonder Nissan is becoming a leader in the EV market and the ARIYA is proof of their capabilities.
Ask Maus Nissan About Test-Driving the New ARIYA!
Want to take an up-close and personal look at the all-new Nissan ARIYA? Call Maus Nissan of Crystal River at (352) 592-6287 to ask about scheduling a test drive! We're always excited to give a grand tour of this must-have EV for its safety features and ability to turn heads everywhere it goes.