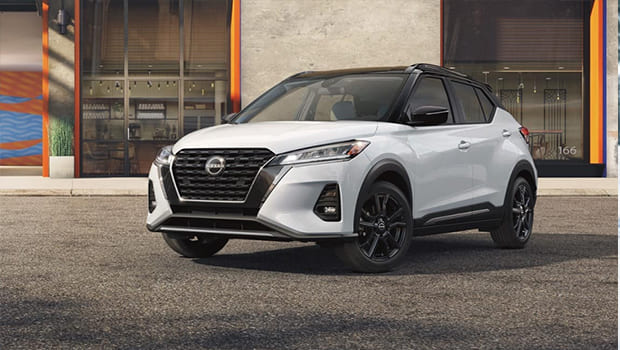 Many drivers need the added space and perks of a sport utility vehicle over a sedan, but not everyone has the lifestyle to make use of a full-sized SUV with the works. If this sounds like you, Nissan had you in mind when designing one of their latest creations. Introducing the 2023 Nissan Kicks which serves as an excellent middle ground for those with specific needs! Leave it to the experts at Maus Nissan of Crystal River to provide you with a review roundup of the latest Nissan Kicks.
The Small SUV Everyone Wants
For those who need something bigger than a sedan but smaller than your average SUV, the new Nissan Kicks is just what you're looking for. And just because it's smaller doesn't mean that you miss out on all of the perks of your typical sport utility vehicle. Nissan prides itself in offering a car that has everything that drivers want with an affordable price tag that makes it accessible to a wider audience.
Adequate Power and Incredible Mileage
The new Kicks is a very capable car with 122 horsepower to get you where you need to go. But what's even more impressive is the mileage rating of 31 in-city and 36 highway miles per gallon. And with a fuel tank of 10.8 gallons, you're all set for any trip no matter how big or small.
A Surprisingly Spacious Interior
This subcompact is able to hold up to five passengers (with larger seating) without taking up too much of your driveway, and it has a maximum cargo capacity of 32.3 cubic feet. So despite being on the smaller side, you can take on practically any task with the Kicks!
Equipped With Safety Essentials
It wouldn't be a good SUV if it didn't have the appropriate safety features. Even though many drivers see the Kicks as a budget-friendly vehicle, you still get the essential safety features like automated emergency braking with pedestrian detection and lane departure warning.
Bonus SR Trim Features
If you decide to go with the upgraded SR trim for the 2023 Kicks, you get to enjoy enhanced features like an 8-inch infotainment screen, a center armrest with storage, an extra USB port, and other useful technology such as:
Intelligent Cruise Control
Intelligent Around-View Monitor
Intelligent Driver Alertness
Automatic Temperature Control
Rear Door Alert
The Premium Package
The Nissan Kicks SR is already very impressive, but you can choose to go for the additional premium package which includes an 8-speaker Bose audio system and Wi-Fi hotspot capability along with heated front seats and steering wheel. Compared to the 7-inch infotainment screen and basic 6-speaker audio system in the base trim, getting the SR trim complete with the premium package is a clear upgrade that you won't regret signing up for!
Try Out the 2023 Nissan Kicks at Maus Nissan of Crystal River!
Want a closer look at the 2023 Nissan Kicks to see if it's the right choice for your lifestyle? Come down to Maus Nissan of Crystal River at any time to get the grand tour! Our friendly team will gladly answer any questions you may have and take you for a test drive. Call (352) 592-6287 today for more information.