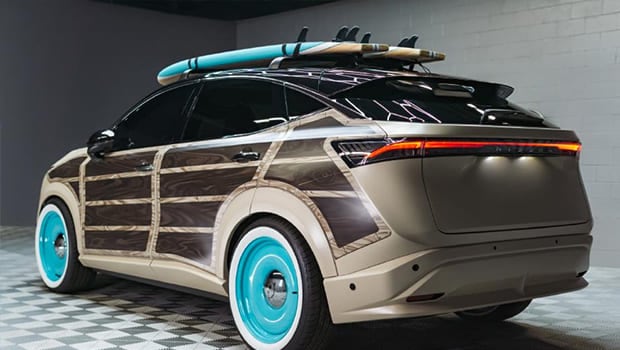 This year, Nissan had a great handful of concept cars and upcoming models to show off at the 2022 SEMA Show. Any driver who was interested in electric vehicles, performance cars, and pickup trucks had a special treat to indulge in for this amazing presentation. Here is Nissan's exciting 2022 SEMA lineup, provided by fellow car enthusiasts at Maus Nissan of Crystal River.
Sunny LEAF Project
With the brand playing a key role in the kickstart of modern EVs beginning with the 2010 LEAF, Nissan continues to lead the all-electric vehicle market with their new Sunny LEAF project. This concept infuses the classic Sunny truck model with the LEAF's renowned electric powertrain to create Nissan's very first all-electric pickup.
ARIYA Surfwagon
Continuing the trend of transcending more vehicle types into the EV market, Nissan is also releasing their new ARIYA, an all-electric SUV that is both fast and powerful. The exact trim as shown at the 2022 SEMA is the ARIYA Surfwagon which has been designed to look like a traditional beach-style car that's wrapped in retro wood paneling and satisfying blue wheels.
NISMO Off-Road Frontier V8
Everyone's favorite Frontier has been reimagined in the best way possible. The NISMO Off-Road Frontier V8 concept has been enhanced with an all-powerful TITAN V8 engine along with a few other parts exclusive to the NISMO Off-Road. This concept has also been decked out with a custom suspension system and a widebody build.
Frontier Street Truck Project
The NISMO Off-Road isn't the only Frontier redesign that we saw at the 2022 SEMA. Introducing the Frontier Street Truck project which encourages more possibilities in the personalized truck scene by offering a pickup that's built to be on the smaller side. This is accomplished with a lower suspension and a special wheelset. The SEMA model that was displayed featured a red, white, and black wrap with a striking pattern that caught everyone's attention.
NISMO Accessorized Z
Nissan visualizes a future of fully-custom vehicles with the NISMO Accessorized Z as your canvas. Anyone looking to build their very own twin-turbo performance car can choose from an array of NISMO and Genuine Accessory parts to create a Nissan Z that's unique to them in every possible way.
Formula Drift Z
The company has its eyes set on Formula Drift with their new contender pumping out 1,300 horsepower. The new 2023 Formula Drift Z was specifically designed as Nissan's answer to the ever-popular motorsport arena.
Nissan Z GT4
Because having a single challenger wasn't enough, Nissan also brought the new Nissan Z GT4 to the stage. We can't wait for it to hit the track as it paves the way for Nissan's continued success in motorsports!
Stay Tuned with Nissan of Crystal River!
Want to know more about these incredible concept cars and upcoming models? Call the experts at Maus Nissan of Crystal River at (352) 592-6287 and we'll tell you everything we know as your source for Nissan news. The sales team is available daily, so feel free to stop by at any time!