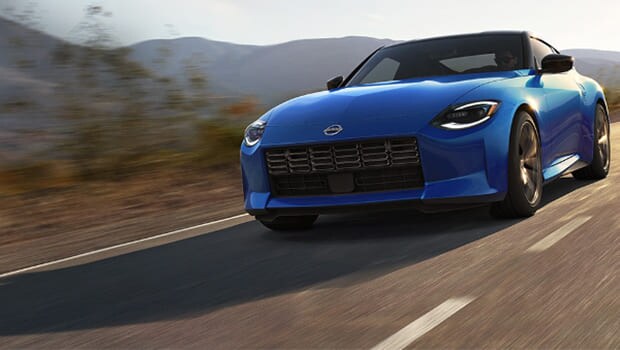 Jay Leno always said that "you can't stay mad at somebody who makes you laugh." At Maus Nissan of Crystal River, we agree. However, we would also add that you can't stay mad at someone who knows a fantastic car when he sees it. (Just like our friend Jay, who had nothing but great things to say about the 2023 Nissan Z). Read on to see more of what he said.
Set in an industrially chic garage, Jay Leno invites viewers to take a closer look at Nissan's latest sports car from the Japanese automaker. Powered by a twin-turbo V6 engine that produces 400 horsepower, the Z toggles between the retro and modern aesthetic beautifully. Leno admires the simplicity of its setup and the accessibility of this sports car for both spirited and daily driving.
Classified as a quintessential secondary car, the Z has been tuned specifically for adventure. Nissan added the recirculation valve to promote responsive and effective driving. Ample cargo space for a sports car adds to the uniqueness of its design. The exterior's sleek body lines create a smooth finish reminiscent of the coupe shape from the 240Z.
You can't have the newest iteration of this speedster and not hit the road. Leno opens up the engine smoothly as he jokes that a manual is the "best anti-theft device" because of the finesse it takes to work the clutch and go pedals. Power and strength are heard (and felt!) as they make their way through the back wheels. The Z is available to buyers in both a six-speed manual and an optional nine-speed automatic transmission.
Overall, Jay Leno is a Nissan Z fan. Those interested in adding upgrades within the two trims - sport and performance - can do with the plethora of options available. This silent beast is ready for car enthusiasts that will gleefully enjoy the manual gearbox and the available limited slip differential at the rear.
Skip the JAY-walking and let's hit the road! Visit the team at Maus Nissan of Crystal River today or call us at (352) 592-6287 for more details.