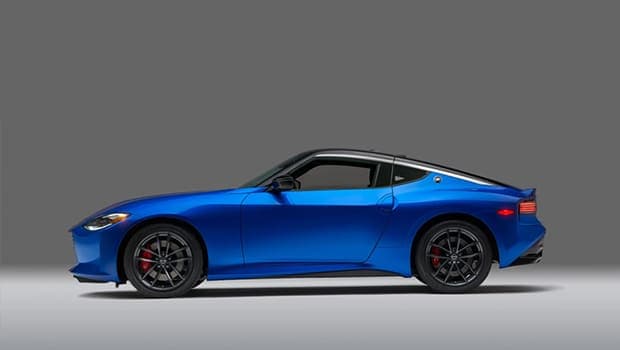 Nissan just released their 2023 Z model as their latest sports car, and fans from all over have something to say about the revamped design. If you're not sure who to listen to, you can count on Maus Nissan of Crystal River for an honest review of the 2023 Nissan Z to help you decide if this is the sports car for you!
Modern Aesthetics With Retro Touches
The driving force of the 2023 Nissan Z's overall design is the idea of being a callback to past classic versions. At first glance, you'll notice an encompassing modern aura with subtle retro accents. While many fans appreciate this intricate collaboration between different eras, those looking for a new sports car may prefer to have a completely futuristic look. However, it's hard not to appreciate the small nods to the past such as nostalgic air vents, analog flip switches, and simple knobs.
The new Nissan Z isn't completely without modern features, though. Despite the headlight shape being inspired by older models, the LED composition is very "now" with thin strips of light lining the top and bottom of the lamp. Another cool feature is the small button located underneath the semi-flush door handle which lets you lock and unlock the door with ease.
A Sports Car With Manners
The drivetrain is the main focus of most of the controversy surrounding the 2023 Nissan Z, with one popular topic involving the exhaust. Nissan engineers took the time to design exhaust pipes with perforations to help drown out much of the excess noise. While this trait is a pleasant feature for most drivers, others may believe that the Z doesn't quite feel like a performance car because of the lack of sound. And although the Z has a smooth suspension that makes every drive feel satisfying, many gearheads will miss the rough and gritty rides. You could take their word for it, but there's a good reason why the Nissan Z made the "2023 North American Car of the Year" finalist.
It's All About Preference
There are many other characteristics of the new Nissan Z that boils down to personal preference. For instance, a two-seater may be perfect for the solo driver with an occasional passenger while it may not be enough for those who would rather carry around more people even with the larger trunk as a decent tradeoff. The 2023 Z comes standard with a 6-speed manual transmission and rev-match button but those who don't know how to operate a manual will need to pay a little extra for the 9-speed automatic transmission. Lastly, the new Z comes with S007 tires which are designed for optimal performance, but some sports car lovers may have found a different style that they would much rather rely on. While the Nissan Z is an incredible sports car, there will be people who like what they like regardless.
Ask Maus Nissan of Crystal River About the 2023 Nissan Z!
If the new 2023 Nissan Z happens to meet all of your preferences, call Maus Nissan of Crystal River at (352) 592-6287 for more information on this unique and stylish sports car and how you can get your very own.