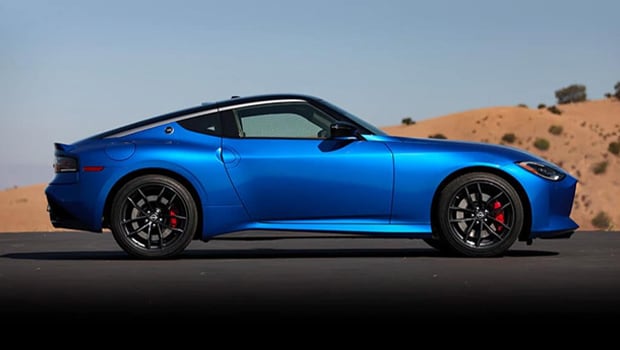 Want to go fast but not sure which vehicle is best to get you there? Maus Nissan of Crystal River takes a look at how two performance powerhouses stack up against each other. Enter the 2022 Ford Mustang versus the 2023 Nissan Z. Let's hit the road!
At first glance, this competition seems unfair given the 2022 Mustang's impressive 5.0-liter V-8 engine against the Nissan Z's tame 3.0-liter twin-turbo V-6. However, don't expect this one detail to give you the full picture. Though the Z's displacement is down, the new engine gains two magnificent turbos that produce 400 horsepower and 350lb-ft. of torque. Within the three different Mustang trims, buyers can choose the base EcoBoost, the GT, or for a supercharged boost, the Predator. Budget-wise, the Mustang GT and Nissan Z are each priced at around $40,000.
Both sports cars offer the race car experience, should you crave it. In the automatic Z, drivers can indulge beefy shifting with the downshift rev-matching. Above the infotainment system, three gauges for turbo speed, turbine speed, and voltmeter give a retro yet Ricky Bobby feel to the cluster. Another bonus for the manual Z is its programmable upshift indicator light. However, when it comes to the Mustang, these fun features are only available with the Premium package. Drivers can choose from five drive modes like "Drag Mode" which include launch control, track apps, and more.
Technology abounds in both models though it depends on what you are looking for in a vehicle. Buyers will find intelligent driver assistance features, Apple CarPlay and Android Auto connectivity, and LED lighting in both the Z and Mustang though only the Z offers standard cruise control. The Mustang lacks standard tech features like an 8.0" display unless the "High Package" is chosen. Oppositely, the Z gives a standard 8.0" display with the option to upgrade to the Performance trim that includes a 9.0" display.
If you are ready to learn more about the 2023 Nissan Z, visit the team at Maus Nissan of Crystal River. Schedule your visit here or call us at (352) 592-6287 today!