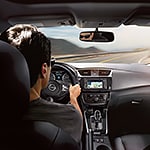 The new Nissan Sentra owes some of its popularity to the accessories that owners can buy and have added onto their vehicles. These accessories are designed to enhance the midsize sedan's visual appeal as well as its overall function.
You have the option of buying a four-piece side window deflector set to keep out air noise and excess heat and sunlight while you drive. You may want to roll the windows down but fear encountering these elements. To shield you and the inside of the car from them, you can have the dealer install the window deflector set at the time of purchase.
You also can buy splash guard sets to install to protect your car from dirt and grime from the road. The splash guards protect the tires from mud and muck buildup. It also keeps the debris from the road off the lower part of the car's doors.