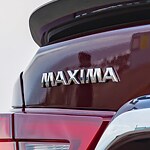 At Maus Nissan of Crystal River, we know that some drivers in our area crave high-performance cars. That's where the Nissan Maxima enters the conversation. With its impressive engineering, this popular luxury sedan delivers an unforgettable driving experience.
As you drive the Maxima, you'll feel the effects of the carefully designed suspension. From the independent multi-link rear system to the low, athletic stance, each detail is designed to provide high-speed responses. At the same time, the monotube shocks create a buttery smooth feel on any trip.
Are you looking for the ultimate sporty feel? Choose the available sport-tuned suspension. Using stiff springs and a bigger stabilizer bar on the front end, this system delivers a track-style feeling. Whether you're heading down a straightaway on the highway or taking corners at high speeds, this model delivers sharp, lightning-quick responsiveness. Try it out when you test-drive the Nissan Maxima at our Homosassa, FL location.