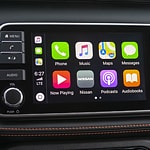 It's a challenge to pinpoint a few awesome things about the Nissan Kicks because there are so many exterior and interior features to love about the all-new subcompact SUV. For instance, the interior is spacious and super-comfy, while the exterior is smooth and glossy in your choice of a metallic or pearl coat. Available colors include favorites like cayenne red, brilliant silver, aspen white, or deep blue.
As for customization, the Nissan Kicks comes with add-ons, or accessories, to help make this SUV all your own. For instance, safety-wise, there's the impact sensor that alerts you to attempted thefts or break-ins of your vehicle. There are also external ground lights to help brighten your path around the car from front to rear. This is especially helpful at night, like when you are getting off from work.
The Nissan Kicks is custom-designed, and we have lots more info on accessories at Maus Nissan of Crystal River in Homosassa, FL.