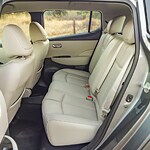 At Maus Nissan of Crystal River, our team knows that managing car maintenance can be a hassle. If you're ready for an easier vehicle ownership experience, we're thrilled to offer the Nissan LEAF. This popular EV is 100 percent electric, which means that upkeep is a breeze.
It all starts under the hood. The LEAF doesn't have a traditional internal combustion engine, so you never need to worry about heading to the garage for a tune-up. Plus, you can bid farewell to oil changes forever; the LEAF doesn't need oil to run.
With the LEAF, you can also stop worrying about filling up the tank. Just keep your battery charged, and you never need to go to the gas station again. Plus, since the LEAF is electric, you might be able to get prime parking spots at your favorite destinations. Find out how fun the Nissan LEAF is by test driving it around Homosassa, FL with our team.